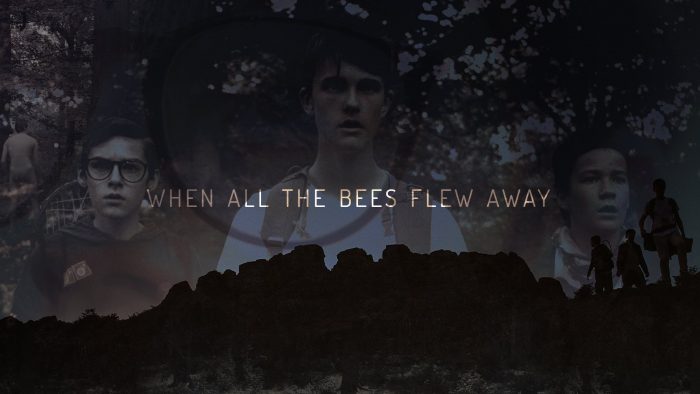 When All The Bees Flew Away
nineteentwenty are excited to announce the premiere release of this beautiful short we had the pleasure of working on. 'When All The Bees Flew Away' premieres on 22nd of September at Curzon Soho, before it screens across international and national film festival circuits.
Connor Pearce makes his directorial debut with When All The Bees Flew Away, an ambitious short film production fusing elements of the much-loved coming-of-age and science-fiction genres — which he describes as "Lord of the Flies post-apocalypse."
For three boys living in an apocalyptic fallout, the forest is both a safe haven and their greatest threat. With a malfunctioning robot ball as their guide, Colm, Ed and George journey to find Colm's older brother. Separated from their families and brought together under extraordinary circumstances, leaving childhood behind is to adapt, and to adapt is to survive.
Inspiration for the film came from an article about the depletion of the bee population in the UK, which forced Pearce to imagine the state of the world when a seemingly small change lead to catastrophic fallout. When All The Bees Flew Away is inspired by films of Pearce's childhood, including the likes of Spielberg's E.T and Artificial Intelligence, whereby a world unknown is discovered and rationalised through the honest, innocent eyes of children.
Following a successful Kickstarter fundraising campaign, a 12-day shoot took place on location in the spectacular surroundings of Bradgate Park and Swithland Wood, part of the National Forest in Leicestershire — the first film to be shot in the location. Other locations include the breathtaking forests and historical Haileybury School in Hertfordshire.
A team of talented young filmmakers — including Sam Ramsey, Producer; Tom Traies, Director of Photography; and GHØSTWATER, Original Score Composer — tackled its first project of this scale.
London and Bristol based nineteentwenty post-house and 750mph sound-house collaborated with the team on a passion-project basis, lending their expertise in visual effects and audio post-production respectively. The film included an iconic CGI robot, brought to life by nineteentwenty's Bristol studio.
Three newcomer acting talents lead the production. Harrison Watson, Dominic Hall & Joseph McErlean, earned lead roles in the production following auditions in London and Leicestershire. Commenting on the cast, Pearce said: "Selecting first-time, young actors has paid dividends. Much like our production team, they are testament to the depth of talent among young people in the industry."
Commenting on the level of ambition involved in the production, Pearce said: "I knew that the team and I may never get the chance to work together this autonomously again, so I challenged everyone to go beyond what they thought possible, to make a film that we could be proud of, without any compromise. With the unyielding generosity of some industry veterans, as well as our team's collaborative abilities and their inherent talent, we unequivocally landed that result despite the odds against us."
Watch the teaser trailer here, and follow the filmmakers' pursuits on twitter (@thebeesfilm) and Facebook (When All The Bees Flew Away).